Rejoice inside our luxurious rustic barn to create unforgettable memories with the ones you love.

Explore our sprawling 10-acre outdoor space to enjoy a wide-open atmosphere, privacy, and natural beauty.

Celebrate the occasion in our picture-perfect reception hall to create an impression that lasts a lifetime.

Prepare for your ceremony with a relaxing rehearsal dinner to celebrate this special occasion.
The Legacy Weekend Wedding
Transform your wedding day into a weekend getaway.
The Legacy Barn Weekend Wedding Experience is available from Friday to Sunday, giving you and your wedding party more time to prepare or party. Here is what you can expect:
Arrive Friday afternoon to ease your mind with a ceremony walk-through hosted by our friendly wedding coordinators.
Sit down for

an intimate rehearsal dinner in our beautiful space, and order catering from one of our favorite local chefs. 

Begin Saturday morning preparing with your wedding party in the Bridal Suite or Bullpen. 
Enjoy an intimate wedding ceremony in our indoor or outdoor spaces – The Legacy Barn, The Legacy Pavillion, or Leafy Lane Farms Walnut Grove.
Celebrate with a reception in our enchanting barn featuring modern amenities.
Our weekend couples and wedding parties can also feast on a Sunday morning breakfast or brunch before gathering, opening gifts, and departing for the honeymoon.
Exclusive access to 10 acres for pictures, ceremonies, and celebration
Room for up to 150 guests
Space for white tents to expand the guest list to 250 people
Premium linens (your choice of color)
Massive open-concept spaces with natural light and gentle breezes
Fans and exhaust systems for continual fresh air
Heating throughout and Bride Suite air conditioning
Private bride and groom suites with essential features
Gorgeous Victorian house backdrop for outdoor wedding photos
Ample gathering spaces for guests
BONUS Amenities
Outdoor deck with lighting and picture-perfect staircase
Yard games and fire pit with seating
Patio with six (6) picnic tables
Authentic 1884 wishing well
Old-fashioned wagon and Victorian home for photos
Beer, wine, champagne, and spirits from our bar area
Historical "Leafy Lane Farm Museum" Room
Outdoor stage for live performances
Lighted graveled parking area for up to 75 vehicles
(parking attendants available)
Handicapped parking and additional spaces available upon request
One golf cart for guest shuttling
Gender-neutral, handicap-accessible main floor restroom
Three-stall downstairs restrooms
Tables and chairs
Setup and teardown from Legacy Barn staff
Beautiful crystal chandelier and accent lighting
Rustic and Elegant decor for customized events
Remote screen with AV capability
Wi-Fi Access
Power generators for outage protection
Dedicated on-site Venue Coordinator
Multiple Outdoor Cigarette Receptacles
Reserve the Legacy Barn and its ten sprawling acres at Leafy Lane Farm.
Various rental packages are available year-round for your convenience, including Weekend Wedding Getaways, Two-Day Ceremonies, and One-Day Celebrations. Create your legacy with us.
Schedule your virtual tour or onsite tour now, and book in advance for the best pricing and availability. Contact us for various customized rental packages.
Featured on the cover of Heartland Magazine
Historic Landscape & Architecture
Surround yourself with beautiful structures and natural features that outlast the test of time.
Group Activities
Celebrate in style with one of our exclusive wedding venue amenities, including the Family and Friends Rehearsal Dinner.
Weekend Wedding Getaways
Stay for the weekend to enjoy a legendary rehearsal, ceremony, and reception with your wedding party.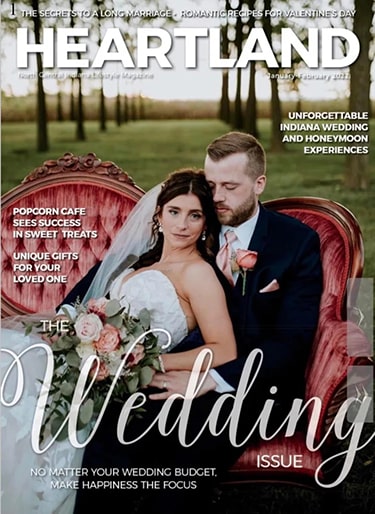 Convenient Proximity
Gather on a remote property that's easy to find, and 10 minutes from local shops, restaurants, and hotels.
Thematic Decor
Choose from hundreds of beautiful decorations and get help with setup to create the ambience your special occasion requires.
Virtual Booking & Tours
Experience outstanding customer service with modern accessibility and tailored scheduling.
Indiana's Hidden Gem!
Book an indoor or outdoor wedding ceremony and host a stunning reception in our breathtaking barn.

951 North 600 West
Kokomo, IN 46901